Cloudview Farm's CSA program provides you the opportunity to support small scale agriculture in Central Washington.  Members pick up fresh seasonal produce every week right from the farm.  Strengthen the local food economy!
CSA Details
Regular Season Option
$25 boxes for 20 weeks = $500 total
4th week of May – 1st week October
Extended Season Option
$25 boxes for 24 weeks = $600 total
3rd week of May – 4th week October
Payment Cash or check only. Mail or deliver to Cloudview Farm 17305 Frey Rd Ephrata WA 98823. Pay in one or two installments. 
Pick-up is on Wednesdays:
4:30pm: Cloudview Farm
4:30pm: Big Bend Community College 1400 building (north of bookstore entrance)
4:50pm: Mason's Place 102 E 3rd Ave #101, Moses Lake, WA 98837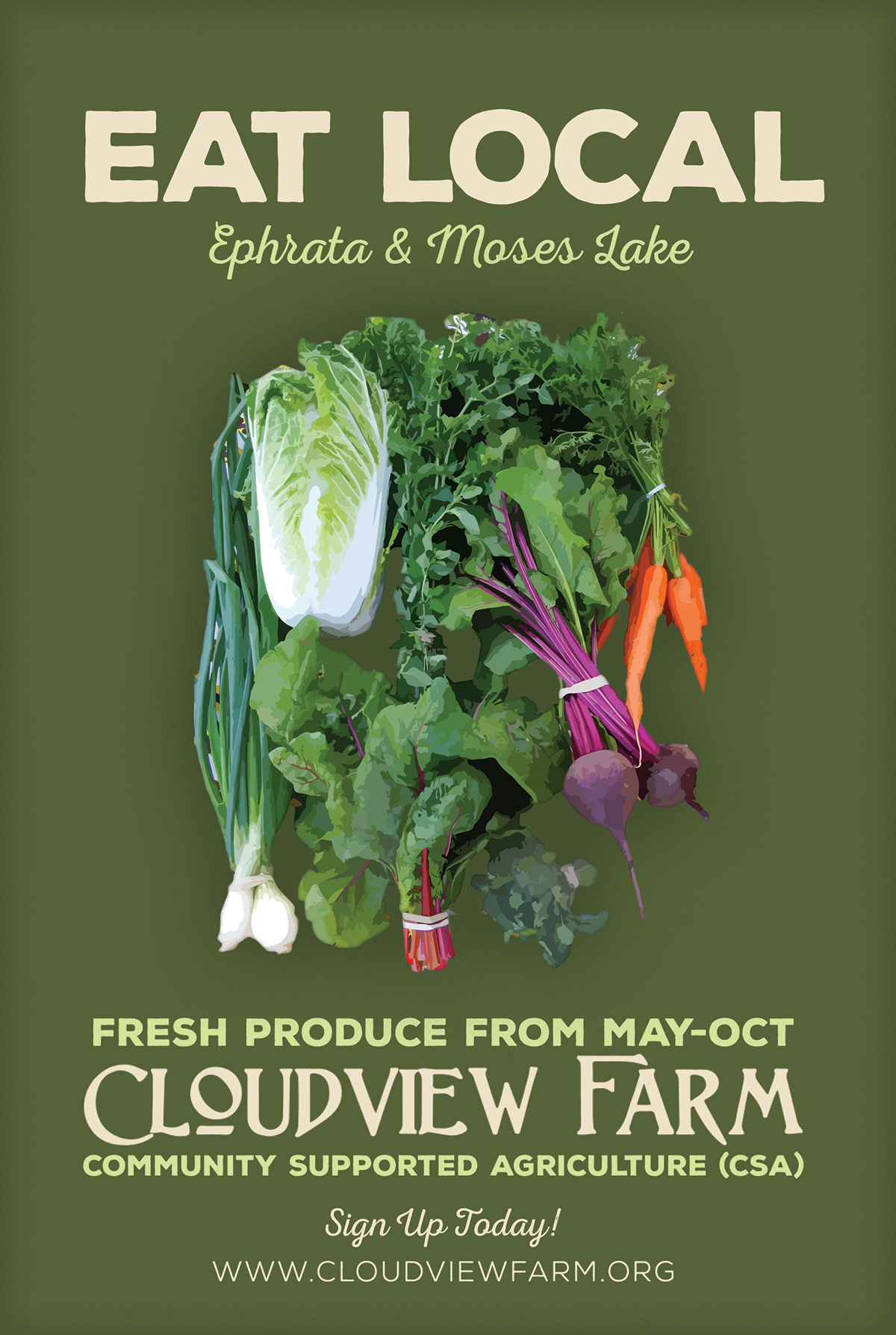 Pickup
Boxes can be picked up after 4:30 PM every Wednesday right from the Farm, 17305 Frey Rd in Ephrata, WA.  They are stored in the walk-in cooler located on the SW corner of the barn.  Boxes that are not picked up are donated Friday morning to the Soap Lake Food Bank.
CSA Kick-off Tour
The CSA Kick-off tour is a great time to meet your farmers, other CSA members, and check out where your food is coming from. Members are welcome to invite friends and family.
Our garden is your garden!
CSA members are always welcome to walk around the grounds and the gardens. The farm is a great place for children and families to explore, play and work. For your own comfort, please mind the signage marking electric fencing on animal pens.
What to expect in your box
Boxes are different every season.  Here is what was in the boxes in a previous year.
Week 1: salad mix, spinach, beets, green onions, radishes, salad turnips, asparagus
Week 2: salad mix, beets, carrots, rainbow chard, oregano, cilantro, Napa cabbage
Week 3: salad mix, carrots, onions, bak choi, radishes, salad turnips, head lettuce
Week 4: salad mix, spinach, cherries, onions, beets, salad turnips, sugar snap peas
Week 5: salad mix, spinach, fresh onions, cabbage, beets, tomatoes, salad turnips
Week 6: salad mix, tomatoes, kohlrabi, head lettuce, bunching onions, carrots, beets, radishes, arugula, apricots
Week 7: salad mix, cabbage, green beans, zucchini, carrots, apricots, tomatoes, green onions, kale
Week 8: salad mix, radishes, green onions, beets, green beans, tomatoes, apricots, garlic, zucchini, summer squash, new potatoes
Week 9: salad mix, cilantro, onions, tomatoes, garlic, potatoes, apricots, carrots, beets, head lettuce,
Week 10: eggplant, summer squash, zucchini, onion, radishes, beets, carrots, tomatoes, head lettuce
Week 11:  salad mix, onion, summer squash, zucchini, eggplant, celery, hot peppers, sweet peppers, tomatoes, basil, potatoes
Week 12:  salad mix, green beans, zucchini, summer squash, onions, eggplant, grapes, potatoes, tomatoes, cherry tomatoes
Week 13: salad mix, sweet peppers, cucumbers, summer squash, green beans, kale, walla walla sweet onions, beets, eggplant, Gravenstien apples
Week 14:  salad mix, green head lettuce, green beans, leeks, eggplant, cucumber, choice of watermelon or cantaloupe, Gravenstien apples
Week 15:  salad mix, red head lettuce, 6 ears sweet corn, eggplant, potatoes, leeks, broccoli, Gravenstien apples
Week 16: Salad mix, yellow onion, garlic, sweet corn, sweet peppers, celery, cantaloupe, tomatillos, Honeycrisp apples
Week 17: kale, sweet corn, sweet peppers, leeks, potatoes, eggplant, carrots, Honeycrisp apples
Week 18: salad mix, beets, carrots, kohlrabi, potatoes, parsley, onions, Honeycrisp apples
Week 19: salad mix, leeks, potatoes, celery root, salad turnips, cilantro, broccoli, Honeycrisp apples
Week 20:  salad mix, carrots, potatoes, leeks, butternut squash, delicata squash, sweet peppers, head lettuce, yellow and purple storage onions, golden delicious apples, fresh ginger